Qualitative Chemistry
Elemental Composition Analysis, Material Identification & More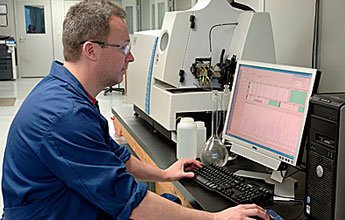 Qualitative chemistry or composition analysis can provide information about the make-up of a test sample. Various qualitative test methods are available to provide different levels of results and information, from verifying the presence of certain elements or groups to the identification of most or all components.
Let LTI Analyze Your Samples
Laboratory Testing Inc. can get the answers you need with the qualitative chemical analysis services performed by our Chemistry Lab near Philadelphia, PA (USA):
Reveal individual elements or groupings of elements
Detect impurities and contaminants
Identify materials
Although our chemistry team can obtain results using a number of instrumental and wet chemistry methods, the most appropriate qualitative test method for each analysis will depend on the size, shape and intended future use of the sample, as well as the depth of information required about the sample. Most often, the sample is a complex mixture and will requires a thorough composition analysis in order to identify all components. Only a few qualitative test methods are nondestructive, which leave the sample intact for future use.
Help With Important Business Decisions
The information and results generated during qualitative chemical analysis are valuable in:
Selection or verification of materials
Determining if a material conforms to a standard or specification
Uncovering the root cause of material failures
LTI Qualitative Chemistry Capabilities
Laboratory Testing Inc. offers a variety of qualitative chemistry methods for composition analysis, material identification and impurity detection, including the following:
ICP Atomic Emission Spectroscopy (ICP-AES)
ICP Mass Spectrometry Analysis (ICP-MS)
Energy Dispersive Spectroscopy (EDS)
Fourier Transform Infrared Spectroscopy (FTIR)
Portable X-Ray Fluorescence Spectroscopy / Positive Material Identification (PMI)
Carbon/Sulfur/Nitrogen/Oxygen/Hydrogen Determination
Classical Wet Chemistry
Standards/Specifications
ASTM E1252
ASTM E1476
ASTM E1508
MIL Specifications
Qualitative Test Processes
ICP Analysis
Both ICP-AES and ICP-MS are performed at LTI with equipment that can measure the whole spectrum necessary for the analysis of all the common metal bases.
Elemental analysis and material identification are provided by high-resolution, high-sensitivity ICP-AES spectrometers that can analyze 70 elements in the periodic table. ICP-MS analysis offers routine testing for trace elements in super alloys and provides ultra-trace elemental analysis for high purity alloys. ICP-MS spectrometers analyze most elements in the periodic table.
Energy Dispersive Spectroscopy (EDS)
During Energy Dispersive X-ray Spectroscopy, a detector separates the X-rays of different elements into an energy spectrum with peaks indicating more abundant elements. EDS can find the elemental composition of a wide variety of materials down to a spot size of a few microns. Laboratory Testing's EDS system is integrated into a scanning electron microscope (SEM) which provides the ability to view very small areas on samples and generate high-resolution images. Combining the EDS system with the SEM allows the identification, at microstructural level, of compositional gradients at grain boundaries, second phases, impurities, inclusions, and small amounts of material. The SEM/EDS unit can be used to produce maps of element location, concentration, and distribution.
Fourier Transform Infrared Spectroscopy (FTIR)
Fourier Transform Infrared Spectroscopy (FTIR) is the process used to analyze many organic materials, including plastics and other polymers using an absorption spectrum. FTIR can provide qualitative test information about the molecular structure of the material and chemical bonds.
Portable X-Ray Fluorescence Spectroscopy
A portable X-Ray Fluorescence Spectroscopy unit provides instant element analysis and alloy identification, and is used to provide Positive Material Identification services at LTI. The PMI analysis is performed with a handheld tube-based analyzer that does not alter or damage the test material. This test method is used to verify elemental composition of material and of filler material in welding applications and is also known as a PMI Test.
Contact us for a price to complete your chemical analysis order.