Wet Chemistry
ICP Chemistry; Hydrogen, Oxygen, Nitrogen Analysis & More
Wet Chemistry, also called wet chemical analysis, generally refers to chemistry performed on samples in the liquid phase. Since wet chemistry analysis is performed on liquid samples, this type of element analysis can often be performed on samples too small for other instrumental methods.
Both classical and instrumental wet chemistry services can provide qualitative and quantitative data about the elemental make-up of the test sample. Laboratory Testing Inc. has the expertise and fully-equipped laboratories to provide both types of analyses on metal and alloy samples near Philadelphia, PA (USA).
Wet Chemistry Services at LTI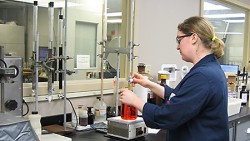 Our classical wet chemistry lab performs traditional techniques such as Colorimetry, Gravimetry and Titrimetry. Classical wet chemical analysis is the traditional method of element analysis using laboratory beakers and flasks to manipulate a sample in order to identify a single element.
The instrument laboratory also provides wet analyses, including ICP Chemistry (ICP Atomic Emission Spectroscopy and ICP Mass Spectrometry Analysis) and Inert Gas Fusion for Oxygen, Hydrogen, Nitrogen Analysis. Instrumental wet chemistry utilizes instrumentation to analyze a sample for a full spectrum of elements. Instrumented methods are automated and computerized for streamlined analysis and data storage.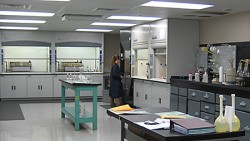 LTI can test for the following chemical elements and more:
Manganese
Antimony
Phosphorous
Silicon

Titanium
Aluminum
Nickel
CR +6
Test Methods/Specifications
AMS 4081
AMS 4083
ASME Sect. IX
ASTM A370
ASTM A428
ASTM A751
ASTM A90
ASTM A90/A90M
ASTM B137
ASTM B154
ASTM B328

ASTM D1125
ASTM D1293
ASTM D512
ASTM D5630
ASTM D792
ASTM E31
ASTM E350
ASTM E53
ASTM E70
MIL Specifications
Ask LTI about testing your material samples. In addition to our wet chemical analysis services, the Lab offers a wide-array of additional analytical chemistry services to meet your needs.
The Test Processes
Instrumental Wet Chemistry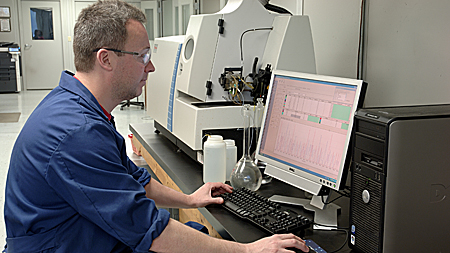 ICP Chemistry
ICP chemistry is offered by LTI using both the ICP-AES (Atomic Emission Spectroscopy) and ICP-MS (Mass Spectrometry Analysis) methods. The sample is mixed with heated argon gas that has been charged with radio frequencies in the torch chamber of the ICP spectrometer to produce an argon plasma. The hot plasma removes any remaining solvent and causes sample atomization followed by ionization. The resulting spectrum indicates the elements present in the sample.
ICP chemistry is fully computer controlled and monitored to assure reliable processing and reporting of the wet chemical analysis results. LTI's ICP-AES spectrometers can analyze 70 elements in the periodic table with high resolution and sensitivity. ICP Mass Spectrometry Analysis evaluates most elements in the periodic table and provides qualitative and quantitative information about what elements and how much are present in the sample, including trace elements.
Inert Gas Fusion
Inert gas fusion is used to determine the gas content in ferrous and nonferrous materials. Hydrogen, nitrogen and oxygen are the gases found in materials as a result of the melting processes and subsequent hot and cold working methods. Controlling the gas contents to low levels minimizes their adverse effects on mechanical properties such as strength and ductility.
The inert gas method reverses the bonding between the gases and the metals, causing the dissociation of the gases. The dissociated gas is moved along a very elaborate separation chamber by an inert carrier gas. The gas to be analyzed flows into a detection system. An infrared system is used at LTI to detect oxygen, and the thermo-conductivity system is used for hydrogen and nitrogen analysis.
Classical Wet Chemistry
The classical methods of wet chemistry analysis include colorimetry, gravimetry and titrimetry. The process of colorimetry relies on changes in color to show qualitative chemical measurements and identify elements. The measurement most commonly used in colorimetry is absorbance/transmittance of light, using the theory that if a solute absorbs light of a particular wavelength, the absorbance is directly proportional to the concentration of substance in solution. Measuring absorbance of light by a sample can lead to information about concentration when a standard with the same absorbance and a known concentration is identified. We can be reasonably sure that the substance with the same absorbance also has the same concentration.
Traditional analyses for quantitative results includes gravimetry based on the measurement of mass and titrimetry (volumetric analysis) using a volume measurement of a liquid. Gravimetric analysis entails the measurement of solids precipitated and weighed from a sample after dissolution. A known amount of sample is weighed, dissolved, manipulated either chemically or physically to precipitate a compound, and the collected solids are weighed. The amount of constituent in the original sample is calculated from the mass of the precipitate and its chemical composition. Titration can be used to determine the concentration of a known reactant. A reagent, called the titrant, of known concentration and volume (standard solution) is used to react with a measured quantity of reactant, making it possible to determine the exact amount that has been consumed when the endpoint is reached. Titrations often use visual indicators, such as a color change in the reactant mixture, to indicate the endpoint of a reaction.
LTI Capabilities
ICP Chemistry (ICP-MS, ICP-AES)
Inert Gas Fusion (oxygen, hydrogen & nitrogen analysis)
Classical Wet Chemistry (colorimetry, gravimetry & titrimetry)