Fracture Mechanics
Fatigue Crack Growth & Fracture Toughness Testing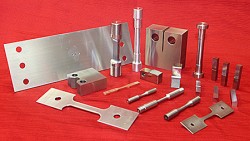 The experienced staff specializing in fracture mechanics at Laboratory Testing Inc. performs both Fatigue Crack Growth Testing and Fracture Toughness Testing. The engineering group is active in the ASTM process and regularly attends ASTM committee meetings. They excel at working with clients to develop custom test procedures for their unique requirements.
Everything To Meet Your Testing Needs
LTI is NADCAP and A2LA accredited for fatigue crack growth and fracture toughness testing. We not only have the team, but also the equipment, to handle your testing needs.
Computer-controlled servohydraulic load frames provide loads ranging from 40 lbf. up to 100,000 lbf., cycling at a rate of up to 40 hertz.
Temperature chambers, furnaces and instrumentation that allow testing to be performed between temperatures of -150°F and 2000°F.
A high precision inspection microscope for measuring dimensions of specimens before testing and crack surfaces after testing.
Aluminum, Steel, Titanium and Nickel Super Alloys can all be tested.
Routine Test Standards:
ASTM E399 KIc Linear-Elastic Fracture Toughness Testing
ASTM E647 Fatigue Crack Growth Testing
ASTM E1290 Crack-Tip Opening Displacement (CTOD)Testing
ASTM E1820 JIc Elastic-Plastic Fracture Toughness Testing
ASTM E1820 Crack-Tip Opening Displacement (CTOD) Testing
Also ask us about custom testing and our Machine Shop's in-house specimen preparation service.
Fatigue Crack Growth Testing characterizes the rate at which a preexisting crack will grow under varying stress states. The test measures the rate of growth of a crack from a preexisting sharp "starter crack" under the controlled application of a cyclic load. During the course of the test, measurements are made of the length of the crack at intervals of cycle count. Currently the crack length is measured either by compliance changes of the sample using a clip gauge or by the potential drop method.
The test is performed according to the standard ASTM E647 and in-house procedures developed with industry experts.
Fracture Toughness Testing provides information about a material's resistance to crack extension under a steadily increasing load. The conditions of load and crack length under which a sharp crack will begin to grow in the material are measured.
Fracture Toughness Testing is currently performed by LTI according to these standards:
ASTM E399 determines KIc. This method has been in use since the early 1970's and has broad use across material specifications. It's also referred to as KIC or K1C fracture toughness.
ASTM E1820, which determines JIc, can characterize more ductile, tougher materials that exhibit stable crack growth before failure, which may prevent valid results being obtained from E399 testing. Two other fracture toughness parameters, KJIc and CTOD(δ) are also available from the E1820 data analysis. J-R and δ-R curves can be generated and provided.
ASTM E1290, which has been superseded by ASTM E1820, can also be performed to obtain a CTOD value.
High quality specimens and fixtures, as required by ASTM for all types of fracture and fatigue testing, are produced by our in-house Machine Shop using the latest in CNC equipment.
Specimens that can be machined include:
C(T)
M(T)
SEB
SEN
Surface Flaw
LTI Fracture Mechanics Capabilities
Tests:  Fatigue Crack Growth, Fracture Toughness
Loads:  40 lbf. to 100,000 lbf.
Temperatures:  -150°F to 2000°F
Specifications:  ASTM E399, ASTM E647, ASTM E1290, ASTM E1820
Test Specimens:  Inhouse machining of specimens in a full-range of geometries and sizes.