Mechanical Testing
Don't Just Say It's Strong: Let Us Prove It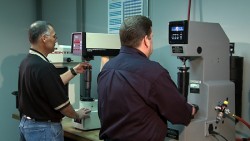 Mechanical Testing evaluates metals under conditions such as tension, compression and  temperature. Laboratory Testing Inc. is equipped to provide the full range of mechanical testing services with quick, reliable results and certified reports.
LTI's mechanical testing lab near Philadelphia, PA (USA) routinely evaluates mechanical properties, including strength, hardness, ductility, impact resistance, fracture toughness, elongation and stress. We also have furnaces to heat treat specimens in order to perform capability heat treating and testing. We confirm upgrade to specification or your requirements.
Trust Our Service & Qualifications
Our combination of technical expertise, competitive pricing and fast turnaround provides an ideal solution for your testing needs. Qualifications will also meet your requirements, including:
Nadcap and A2LA accreditation
Testing completed according to ASTM, EN, ISO, MIL, NASM methods and specifications
PED approval by Lloyd's Register
Mechanical and materials engineers to help with unique needs and questions
Specimen preparation for all mechanical tests
Mechanical Test Capacities & Ranges
Test Specimens for Mechanical Testing
For convenience and quick turnaround, LTI's full-service Machine Shop is fully staffed on two work shifts to prepare specimens from metals and many plastics for all types of mechanical testing. Test specimens are machined according to ASTM standards A370, E8, E23 and customer specifications. LTI is also on NIST's (National Institute of Standards and Technology) Qualified Manufacturers List for Charpy V-notch Impact verification specimens.
Extensive List of Mechanical Testing Services
Test results provide information about the suitability of a material for its intended application and help companies design and manufacture reliable products that will perform as expected. While all of the following tests are offered for metals, tensile and hardness testing are also available for polymers:
Hydrogen Embrittlement / Stress Durability
Conductivity
Magnetic Permeability
Compression Testing per ASTM E9
Proof Load
Bend
Hardness Testing

Rockwell
Brinell
Superficial Rockwell
Shore Durometer

Stress Rupture
Creep Testing

Fracture Mechanics

Fatigue Crack Growth
Fracture Toughness

Impact Testing

Drop Weight
Izod Impact
Charpy V-Notch Impact

Tensile Testing

Machined Specimens
Full-size Re-bar & Tubing
Elevated Temperature

Welder & Procedure Qualification
Tube Testing

Flaring/Expansion
Flattening
Tensile Testing (full-size tubing)

Washer Testing

Free Height Test
Compression
Interlocking Test
Twist Test for Locking Washers

Fastener Testing

Yield Strength
Axial & Wedge Tensile
Proof Load
Cone Strip Test
Double Shear
Flattening
Hardness Testing
Magnetic Permeability
Hydrogen Embrittlement / Stress Durability
Tension Fatigue
News & Articles
"Machining Specimens for Destructive Testing"
"LTI and Peak Beam Make the World Safer"
"Proof-load Testing the Largest Samples So Far"