Metallurgical Testing
Know Your Material's Structure & Weaknesses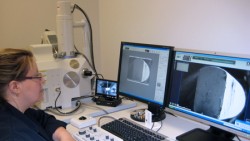 Metallurgical testing and analysis can be a valuable source of information to any industry working with metals. Laboratory Testing's metallography experts can examine samples to:
Detect surface and internal flaws
Determine microstructural features
Evaluate heat treatments
Assure conformance to required specifications
The metallurgical laboratory at LTI's Philadelphia, PA (USA) area facility also performs root cause failure analysis when performance issues occur with metal products.
LTI metallurgical testing is PRI Nadcap and A2LA accredited and completed according to detailed procedures to assure reliable results. Customers receive a Certified Test Report showing the complete results of each metallography test.
Metallurgical Testing Process
The first step in metallurgical testing is test sample preparation. Samples are prepared in our metallurgical lab using precision cutting, mounting, grinding and polishing techniques, as well as etching when required.
The lab's scanning electron microscope (SEM/EDS) provides magnification to 300,000X for microanalysis of very small samples and areas of interest. Metallurgical testing results can be documented using digital imaging microscopes with optical magnification capabilities from 7X to 1000X.
Range of Services
Metallurgical analysis is performed by LTI's engineers using a wide range of microscopic and macroscopic examination methods, microhardness testing and state-of-the-art equipment.
Precision Cutting
1.5″ & 2″ Mounts
Thermoset & Thermoplastic Mounting
Cold Mounting
Automatic and Hand Grinding & Polishing
Immersion, Swab & Electrolytic Etching
Microstructure
Carburization & Decarburization
Grain Size (ASTM E112)
Inclusion Rating (ASTM E45)
Plating/Coating Thickness
Carbide Precipitation
Ferrite by Point Count (ASTM E562)
Intergranular Attack & Oxidation
Alpha Case
Intergranular Corrosion (ASTM A262)
Sensitization
Surface Contamination
Nodularity, Nodule Count
Eutectic Melting
Case Depth
Profiles
Knoop & Vickers Testing
Carburization & Decarburization
Surface Contamination
Failure Analysis & Report Writing
Scanning Electron Microscopy (SEM/EDS)
Digital Imaging
McQuaid-Ehn Grain Size
Welder and Procedure Qualification (in accordance with MIL & API specifications, ASME & AWS codes, ASTM & EN standards and the Pressure Equipment Directive)
Subcontracted Services
Residual stress measurements by X-ray diffraction (XRD)
Plating thickness by X-ray fluorescence spectroscopy
News & Articles
New Microhardness Testing Capabilities
SEM/EDS Added for Testing and Failure Analysis