Metallurgical Testing
More Metallurgical Test Services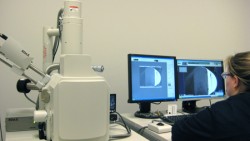 Metallurgical testing is extremely helpful in detecting internal and surface defects on test samples, revealing the microstructure or macrostructure of metals, evaluating treatments and processes, and determining conformance to required specifications.
Customers rely on the engineers in the Metallurgical Testing Lab at Laboratory Testing Inc. near Philadelphia, PA (USA) to perform these services and more:
Additional Metallurgical Testing Capabilities
Failure Analysis & Report Writing

Metallurgical test results are analyzed in conjunction with the results of testing performed in other labs to provide insight into the nature and root cause of the failure.

Scanning Electron Microscopy with Energy Dispersive X-ray Spectrometry

Magnification capabilities to 300,000X for micro analysis and analyzing small areas of interest on samples

Digital Imaging

Photomicrographic examination with optical magnification from 7X to 1000X to document results

McQuaid-Ehn Grain Size
Welder and Procedure Qualification

In accordance with MIL & API specifications, ASME & AWS codes, ASTM & EN standards and the Pressure Equipment Directive
Subcontracted Services
Residual stress measurements by X-ray diffraction (XRD)
Plating thickness by X-ray fluorescence spectroscopy
Test Methods/Specifications
LTI is PRI Nadcap and A2LA accredited to perform metallurgical testing. Accreditation certificates are available online and from our Quality Department listing each covered metallurgical test. The laboratory completes all testing according to detailed procedures and applicable industry standards to ensure reliability. All results are documented in Certified Test Reports or Failure Analysis Reports.
Read more about the metallurgical testing capabilities and qualifications at Laboratory Testing Inc.