Microhardness Testing
Vickers Hardness, Knoop Hardness Test & More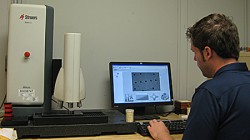 Microhardness testing is a method of determining a material's hardness or resistance to penetration when test samples are very small or thin, or when small regions in a composite sample or plating are to be measured. The microhardness test can measure surface to core hardness on carburized or case-hardened parts (case depths), as well as surface conditions such as grinding burns, carburization or decarburization.
Microhardness testing is routinely performed at Laboratory Testing Inc. near Philadelphia, PA (USA) to:
Evaluate cold work
Determine weld quality
Determine mechanical properties of small parts
Two microhardness test methods are performed at Laboratory Testing near Philadelphia, PA (USA):
Knoop Hardness Test
Vickers Hardness Test
All test results are documented for customers in Certified Test Reports. Microhardness testing from LTI is PRI Nadcap and A2LA accredited and completed according to industry standards.
Test Methods/Specifications
AMS 4081
AMS 4083
ASME Sect. IX
ASTM B578
ASTM E1077
ASTM E384
MIL Specifications
Hardness Conversion Charts comparing micro hardness test values to tensile strength and other hardness scales (e.g. Rockwell) are available.
LTI Capabilities
Microhardness Testing and Examinations
Vickers Hardness Test – load weights up to 50 kilograms
Knoop Hardness Test – load weights up to 1000 grams
Surface Contamination
Carburization & Decarburization
Case Depth
Profiles
Microhardness testing provides valuable information for the following purposes:
Certify conformance to hardness requirements for carburizing, nitriding, plasma nitriding, induction, flame and many other surface hardening processes
Measure the effective case depth in case hardening heat treatments
Measure surface or core hardness of carburized parts, as well as surface conditions such as grinding burns or decarburization
Provide precise and detailed information on surface features of materials that have a fine microstructure, are multi-phase, non-homogeneous or prone to cracking
Determine hardness of different micro-constituents within a structure, or measure steep hardness gradients such as those encountered in casehardening
The Microhardness Test Processes
During microhardness testing, a Vickers (DPH) or Knoop (KHN) diamond indenter is pressed into the material's surface with a penetrator and a light load of up to 1000 grams. The result of applying the load with a penetrator is an indent or permanent deformation of the material surface caused by the shape of the indenter.
Both the Knoop hardness test and Vickers hardness test methods use specific measurements from the indent, in conjunction with formulas, to calculate material hardness. Accurate measurement of the resulting indentation requires the use of a special microhardness testing microscope because the indents are so small.
Knoop – The Knoop hardness test is performed by applying controlled force of 1000 grams or less for a specific amount of time to an indenter in a rhombus-shape (elongated four-sided pyramid). The hardness of the material is determined by the depth to which the Knoop indenter penetrates. The impression is measured microscopically and, when combined with the amount of the test load, can be used to calculate the hardness value on the Knoop scale. Knoop hardness numbers are often cited in conjunction with specific load values.
Vickers – The Vickers hardness test can be performed on both the micro and macro scales (some Vickers testers have a maximum test load of up to 50 kilograms). Like Knoop microhardness testing, these tests are also performed by applying controlled pressure for a standard length of time, but with a square-based diamond pyramid indenter. The diagonal of the resulting indention is measured under a microscope, then this measurement and the test load are used in a specific formula to calculate the Vickers hardness value.
Watch the process in the Microhardness Test Video below.