Metallurgical Sample Preparation
Microscopy and SEM Sample Preparation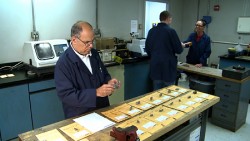 Precision Metallurgical Sample Preparation, also called Metallographic Specimen Preparation, is a key step in performing reliable metallurgical testing. This testing often involves identifying the composition and evaluating the microstructure of materials through the use of optical and scanning electron microscopy (SEM). It is very important that microscopy sample preparation, and more specifically SEM sample preparation, be completed carefully and properly for image clarity.
Complete In-house Sample Preparation
Here at Laboratory Testing Inc., outside Philadelphia, PA (USA), all required metallurgical sample preparation is completed in house. These capabilities cover SEM sample preparation and all microscopy sample preparation for the full range of routine optical microscopy examinations performed including:
Extent of decarburization and carburization
Grain size
Intergranular attack
Depth of alpha case in titanium alloys
Percent spheroidization
Inclusion rating
Volume fraction of various phases or second phase particles in metals
Evaluation of welds
Evaluation and identification of typical microstructures of metals to confirm structure or property relationships (e.g. tempered martensite in steels)
LTI Capabilities
Complete Metallurgical Sample Preparation including microscopy and SEM samples.

Precision Cutting
1.5″ & 2″ Mounts
Thermoset & Thermoplastic Mounting
Cold Mounting
Automatic Grinding & Polishing
Immersion, Swab & Electrolytic Etching
The Sample Preparation Process
The various steps in Metallographic Specimen Preparation include:
Selecting a representative sample of the materials
Sectioning the sample without altering or destroying the material's structure
Mounting the section to facilitate handling
Grinding to achieve a flat, smooth and scratch-free surface
Polishing the mounted and ground specimen
Etching in the proper etchant to reveal the microstructural details
Selecting a representative sample to properly characterize the microstructure or the features of interest is a very important first step. For example, grain size measurements are performed on transverse sections, whereas general microstructure evaluations are performed on longitudinal sections. Therefore, it is important for customers to provide LTI with information about the orientation or the rolling direction of the test specimen before sample preparation begins.
Sectioning of the test sample is performed carefully to avoid altering or destroying the structure of the material. Thus, if an abrasive saw is used, it is important to keep the sample cool with lubricant or coolant. However, no matter how carefully abrasive sawing or electric discharge machining is performed, a small amount of deformation occurs on the sample surface. This deformation must be removed during subsequent sample preparation steps.
After the specimen is sectioned to a convenient size, it is mounted in a plastic or epoxy material to facilitate handling during the grinding and polishing steps. Mounting media must be compatible with the sample in terms of hardness and abrasion resistance.
The next sample preparation step is grinding with a water lubricated abrasive wheel. This step is required to remove the surface damage that occurred during sectioning and to provide a flat surface. The grinding procedure includes the use of a series of progressively finer abrasive grits.
The polishing step in metallographic specimen preparation removes the last thin layer of the deformed metal for a smooth reflective surface. It leaves a properly prepared sample ready for examination of the unetched characteristics, such as inclusion content or any porosity that may exist.
The final step that might be used is etching in an appropriate acidic or basic solution in order to bring out the microstructure of the test sample. This step reveals features such as grain boundaries, twins and second phase particles not seen in the unetched sample.