Metal Testing
Ensure Performance Meets Expectations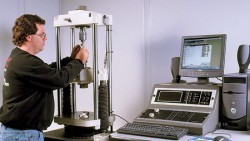 Customers rely on metal testing and material analysis from Laboratory Testing Inc. to provide the test results, certified test reports and answers they need to run their business. Our engineers, chemists and technicians are highly experienced and provide technical expertise and metals testing solutions.
Full-Service, Accredited Lab
LTI's destructive metal testing services are NADCAP and A2LA accredited, ISO/IEC 17025 certified and in compliance with ISO 9001 and ISO 13485. Nondestructive testing is accredited by NADCAP.
Lab Testing performs all metals testing at our facility located near Philadelphia, PA (USA).
LTI Metals Testing Capabilities
LTI has the services, equipment and expertise to provide the full-range of testing for metals and alloys, including titanium, stainless steel, alloy steels, copper alloys, aluminum alloys and other metal testing.
We can test your metal to help you through all your day-to-day and unexpected needs. Let LTI verify the quality of your raw materials, prototypes and final products to support product qualification and to be sure they meet regulatory requirements and design specifications. Our team can also research material or product failures.
As your metal testing lab, call on us to give you information about the following:
Mechanical properties
Heat treat upgrade
Microscopic product features
Flaws and defects
Material composition
Corrosion susceptibility
Laboratory Testing is fully equipped to prepare test specimens and samples for all metal tests performed in our destructive testing departments. Our non destructive metal testing services can be performed on a wide-range of products such as tubing, pipe, bar, plates, castings, welds, fasteners and other machined parts in all sizes, shapes and weights.
All metal test results, accreditations, specifications and more are documented in our detailed Certified Test Reports.
Read about the package of testing services offered for Titanium.