Liquid Penetrant Testing
Detecting Flaws on Non-porous Surfaces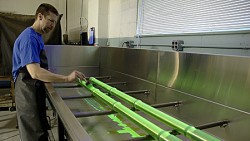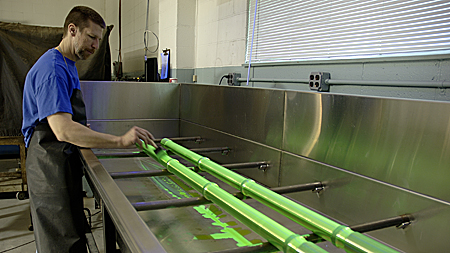 Liquid Penetrant Testing (PT), also known as Liquid Penetrant Inspection (LPI) or Dye Penetrant Testing, is reliable for detecting surface-breaking flaws in materials with a non-porous surface such as metals, plastics, glass and ceramics. This test method is also nondestructive (NDT) and does not damage the tested parts.
Laboratory Testing Inc. is located in the Philadelphia, PA (USA) area and has performed NDT penetrant testing services since 1984. The test relies on a fluorescent or visible dye penetrant seeping into a flaw such as a lap, seam, fracture or crack. This forms a surface indication that can be evaluated under special lighting. The inspection provides information about the shape and size of any defects that are open to the surface.
Penetrant Testing to Meet Your Requirements
Laboratory Testing Inc. has NADCAP accreditation for liquid penetrant testing and provides a certified test report with each order. Certified NDT technicians perform the penetrant testing services to ASNT SNT-TC-1A, NAS410, MIL-STD-2132 and Pratt & Whitney PWA-NDTQ.
The Lab performs both fluorescent penetrant inspection and visible dye penetrant testing. Orders are processed using the highest quality Magnaflux products. Water-washable and post-emulsifiable fluorescent penetrants in sensitivity levels 2, 3 and 4 are available to meet your specification or application. LTI is equipped to test products up to 25 feet in length.
Test Methods/Specifications
ASTM E1417
ASTM F601
MIL-STD-6866
MIL-STD-271
MIL-STD-2132
The Liquid Penetrant Testing Process
Before performing a liquid penetrant test, the surface of the test material must be thoroughly cleaned to remove any contaminants that could prevent the penetrant from entering flaws. Etching may be required if mechanical operations such as machining, sanding, or grit blasting have been performed on the item.
A fluorescent or red visible dye penetrant is applied to the cleaned test material, then it is left on the surface for a sufficient time to allow penetrant to seep into a defect. After this dwell time has elapsed, the excess penetrant is removed from the surface. Next, a thin layer of developer is applied to the item to assist in drawing penetrant trapped in flaws back to the surface where it will be visible as indications.
The test item is viewed under special lighting so any indications can be evaluated according to the liquid penetrant testing specification or customer requirements. When performing fluorescent penetrant inspection, indications must be viewed under darkened conditions with a high-intensity UV lamp.
LTI's equipment includes three large dye penetrant testing dip tanks, a 25 ft. dwell tank for pipe, tubing, bar, etc. and a large testing room with three high-intensity black lights.
Read a full description of the Penetrant Testing process.
LTI Capabilities
Dye Penetrants – Magnaflux brand

Visible dye
Fluorescent – water-washable and post-emulsifiable penetrants in sensitivity levels 2, 3 and 4

Products Tested – metals and other non-porous materials
Size Availability – ability to test materials up to 25 feet long
Certified NDT Level 2 and Level 3 Inspectors – evaluate all test results