X-ray Inspection
Uncovering Subsurface Defects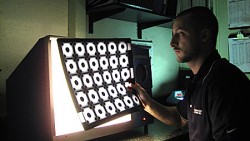 X-ray Inspection of materials and products, also called industrial radiography, is a very effective method of uncovering subsurface defects. Laboratory Testing Inc. in the Philadelphia, PA (USA) area offers two types of radiography to meet specification requirements and customer preferences:
Digital Radiography / Computed Radiography (CR)
Film Radiography / Conventional Radiography (XR)
X-Ray Inspection to Meet Requirements
X-ray Inspection service can reveal hidden voids and defects in a variety of solid materials, including metal, plastic, composites, silicone and rubber. Radiography is a nondestructive testing method and will not harm the test piece. The processes and imaging equipment used to perform both the digital and film methods are similar, yet their output differs and each has advantages:
With digital radiography, inspectors have the ability to adjust contrast and zoom into areas of greater interest. The digital images can be saved to a disc, emailed to customers and easily archived.
Conventional radiography utilizes extremely fine grain film which is able to produce a high-contrast image. Film is developed on site and viewed using our special equipment.
Qualifications and Capabilities
X ray Inspection is A2LA Accredited to ISO 17025.
Certified NDT Level 2 and Level 3 technicians evaluate the digital and film images according to the required test specifications.
Industrial radiography is performed to ASTM, MIL and other specifications.
Equipment to handle extremely large and small test pieces.
Both types of industrial radiography are performed on solid materials.
Equipment for All Size Samples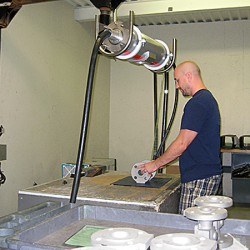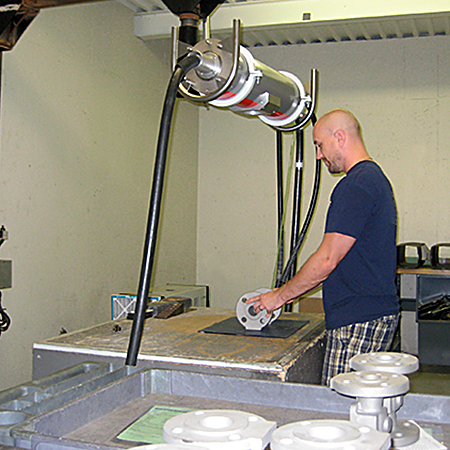 Much of the NDT X-ray Inspection performed at Laboratory Testing takes place in our 21 ft. x 15 ft. 320 kV radiography vault. It can accommodate 20 ft. long welded pipe and has imaging equipment that can penetrate solid materials of varying thicknesses, including approximately 3 in. of steel. The vault dimensions, along with our high-capacity forklifts and 3-ton crane, allow for the examination of large products and materials.
Our capabilities also include 225 kV and 320 kV cabinet units for X-ray inspection of smaller products, including tiny electronic assemblies.
Test Methods/Specifications
ASME
ASTM E94
ASTM E1030
ASTM E1742
MIL-STD-271
MIL-STD-453
NAV-C
PED
Industrial Radiography Applications
The need for industrial radiography can occur during product R&D, as part of the manufacturing, fabrication or installation processes or when a product is in service. Digital radiography and conventional radiography both provide information to determine the soundness of a material or product and are valuable inspection method for a variety of purposes:
Detect internal discontinuities such as shrinkage, cracking and porosity
Verify the integrity of internal components
Determine the quality of welds
Identify the extent of corrosion
Uncover the source in fire investigations
The X-ray Inspection Process
The X-ray inspection process used to examine industrial products is very similar to the more familiar radiography used in the medical industry. Industrial radiography uses X-rays to penetrate test items made of solid materials (e.g. tubing, castings, weld plates, plastic injection molding, circuit boards, batteries) so hidden defects, inconsistencies or features can be revealed. An image of the inspected location is produced on film or as a digital image for evaluation by certified NDT inspectors and to create a permanent record of the internal condition of the test piece.
LTI Radiography Capabilities
Processes – computed radiography (digital radiography) and conventional radiography (film radiography)
Products Tested – solid materials
Size Limitations – very small (e.g. electronics) to large (e.g. tubing, weld plates)
Output – digital images, film
Material Thickness – X-ray equipment can penetrate varying thicknesses
News & Articles
"X-ray Inspection Let's You Know What's Inside"
"Inspecting Plastics and Electronics with Conventional X-ray"