Specimen Machining
Made to Order: Custom Machined Test Specimens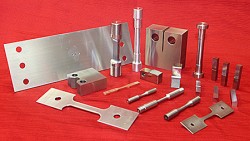 When you require precision test specimens for destructive testing, Laboratory Testing Inc. can fill the order quickly and economically. The Machine Shop at LTI has the specimen machining capabilities to prepare specimens from metals and even some from plastics, including:
Full spectrum of Mechanical Test specimens, including charpy test, izod test and tensile test specimens
Fracture Mechanics specimens, including C(T), M(T), SEB, SEN
Corrosion and Weld Qualification specimens
Metallography samples
Chips for ICP analysis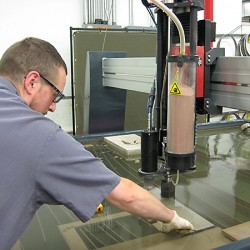 Order test specimens alone or have LTI perform your testing too. We support a variety of industries, including Additive Manufacturing, Universities, Government Labs, R&D Labs, Aerospace, and Automotive.
Rely on LTI's Qualifications
When you work with a qualified supplier, you can count on quality specimen and sample machining.
Machining is performed according to industry standards, including ASTM, AWS, ISO, EN, DIN, JIS, NACE.
Specimen machining is NADCAP accredited.
LTI is on the NIST Qualified Manufacturers List for Charpy V-Notch Impact verification specimens.
Water jet cutting equipment and computerized numerical control (CNC) centers are used to quickly prepare the highest quality test specimens from metals, including metal matrix composites, hardened steels and nickel-base alloys, and from many plastics.
LTI's machinists also perform Low-stress Grinding and wire EDM (electrical discharge machining) services on applicable specimens and materials.
Get the Most Efficient Turnaround
Our Machine Shop near Philadelphia, PA (USA) runs two work shifts to ensure fast completion of specimens, so there is no delay in the start of your testing order. We have the expertise, staff and equipment to quickly prepare a wide-range of test specimens including the following:
Compact Tension C(T)
Middle Tension M(T)
Single Edge Bend (SEB)
Single Edge Notch (SEN)
Surface Flaw
Rotating Beam & Low Cycle Fatigue
Flat Fatigue
Dynamic Tear
Stress Rupture
Stress Corrosion
Gleeble
Charpy V-Notch Impact

Izod Impact
Flat Tensile
Round Tensile
Jominy
Fracture Toughness
Round Compression
Hydrogen Embrittlement
Face, Root, & Side Bend
Frequency Severity (Steel Cleanliness)
Weld Qualification
Metallography
Industry Specifications
ASTM (including A370, E8, E23)
AWS
ISO
EN
DIN
JIS
NACE
The Specimen Machining Process
The machining of most test specimens begins with the rough cutting of material to length on a saw or more refined cutting, closer to size, using our water jet. The specific type of specimen required, including shape and features, will dictate whether milling, turning and grinding are also part of the sample machining process. Round specimens require turning on a lathe, since rough-cut specimens are usually square in shape. Milling cuts away material to create flat, angular, curved or a combination of surfaces on the specimen. Grinding is the final step for some specimens that require more refining or a specific finish.
Once the specimen is prepared, a dimensional inspection is performed to verify measurements against the applicable specification.
LTI Capabilities
Capabilities – all specimen machining and sample machining required for destructive testing
Materials – metals and many plastics
Accreditations/Approvals – NADCAP accredited; NIST's Qualified Manufacturers List for Charpy V-Notch Impact verification specimens
Industry Standards – ASTM, AWS, ISO, EN, DIN, JIS, NACE
News & Articles
Specimen Machining for Destructive Testing
Waterjet: Empirical Evidence