Surface Plate Calibration System More Customer Information, Excellent Reliability
Does Your Surface Plate Measure Up?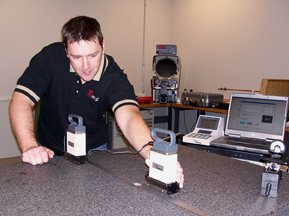 Surface plates are a valuable investment and will bring years of reliable use with proper care. But over time, the surface wears and can not be counted on for precision accuracy. During calibration, we will completely measure surface flatness and repeatability. You'll receive diagrams and measurements clearly explaining wear and deviation from the standard. Then, we'll resurface your plate to bring measurements within grade guidelines.
Maintain the accuracy of your surface plate with regular calibrating and resurfacing to measure wear and restore flatness. Laboratory Testing Inc. offers one of the best solutions around. Our A2LA-accredited calibration service includes full surface flatness and repeatability measurement with diagrams and charts clearly explaining wear and deviation from the standard. Using this information, we will resurface your plate to bring measurements back to within guidelines for the grade. Before we leave your facility, we will clean and lightly polish the plate. We'll provide you with a temporary Certification showing As Found and As Left Conditions, and specification requirements. Your final certification will be mailed, e-mailed or faxed the next business day.
While our technician is at your facility, take advantage of our One-stop Service and have us calibrate optical comparators, hardness testers, balances, micrometers, calipers, compression testing machines and force instruments. Call today to schedule your service appointment.