Ultrasonic and Hydrostatic Testing Expanded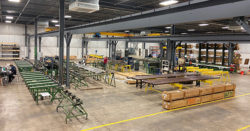 The Nondestructive Testing Department at Laboratory Testing Inc. (LTI) has been expanded with a new world-class facility for Ultrasonic Testing (UT) and Hydrostatic Testing (Hydro). Orders for testing services in these two areas were growing at record numbers each year, triggering the decision to increase much needed capacity. UT and Hydro have moved to a 40,000 sq. ft. building in the same industrial park where our other LTI buildings are located.
The move doubled their space, giving ultrasonic testing room to add a 9th immersion system that was custom built by the TACTIC division of LTI and to inspect larger materials in contact UT. We also doubled capacity in hydrostatic testing by adding a second testing line. An "in line" cell was created to perform UT and hydro testing on materials requiring both types of services. The new building layout has streamlined operations from delivery, to order entry, inspection and return shipping.
TAC Technical Instrument Corp. (TACTIC) has been designing and manufacturing immersion ultrasonic testing equipment for metal tube, pipe, and bar stock since 1962. LTI has been using their UT systems since the company was started back in the 1980s.
For more information or pricing on Ultrasonic or Hydrostatic Testing services, call 800-219-9095 or email sales@labtesting.com. To find out more about TACTIC ultrasonic testing equipment, visit tactictest.com.