All Material Testing & Calibration Services At One Location
Laboratory Testing Inc. (LTI) helps our clients get results and certified reports quickly, conveniently and cost-effectively. "One-Stop" access to our wide-range of services makes the difference:
LTI, in Hatfield, PA near Philadelphia, is one of the largest independent laboratories in the industry and fully capable of safely handling and testing materials of all shapes, sizes and quantities. LTI's technical experts and support team constantly strive to live up to our motto, "Exceeding your expectations with quality, service and delivery". We'll help you get your job done, meet your requirements and find the answers you need with a full-range of accredited services.
Metal Testing, Polymer Testing & Material Analysis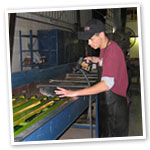 Many successful businesses rely on materials and nondestructive testing to ensure the safety, reliability and integrity of materials. Whether testing is required for product development, material verification or failure analysis, Laboratory Testing Inc. can provide answers about mechanical properties, microscopic and subsurface flaws, material composition and characteristics, corrosion susceptibility and more. Our specialties are metal testing and polymer testing in materials and products of all shapes and sizes. Our chemical testing lab also analyzes powdered metals, ores, ferroalloys, composites and ceramics.
Calibration Services at LTI or Your Facility
When precision measurement is necessary during production or inspection to ensure quality end products, you can't leave the accuracy of measuring tools and instruments to chance. LTI Metrology, the calibration laboratory at Lab Testing, offers the calibration services and certification you need. LTI Metrology calibrates dimensional, pressure, force, torque, electrical, temperature, mass and vacuum measuring instruments, and provides field services, adjustments, repairs and new instruments when needed. Also rely on LTI to calibrate and certify standards, surface plates, hardness testers, optical comparators, balances and testing machines.