Metrology & Calibration Services
Verifying Measurement: Ensuring Accuracy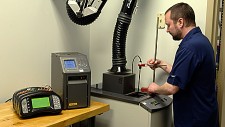 LTI Metrology, the metrology services and calibration laboratory near Philadelphia PA provides accurate and affordable NIST traceable (National Institute of Standards and Technology) and A2LA accredited dimensional inspection, on-site calibration and instrument calibration services.
The metrology lab offers calibration services for measuring hand tools, gages, standards and pressure, torque, force, temperature, electrical, mass, vacuum and flow instruments. Repair service is also available for many items, as well as on-site calibration services for measuring tools and a variety of equipment. The metrology lab technicians also verify the dimensional accuracy of product features for customers with dimensional inspection services.
During instrument calibration, technicians compare the performance output of a measuring tool or instrument with a measurement standard. Calibration services confirm that the item will produce results which meet or exceed that standard's criteria. Our professional calibration staff works with state-of-the-art calibration equipment in an environment-controlled laboratory, so you can count on precise results and timely turnaround.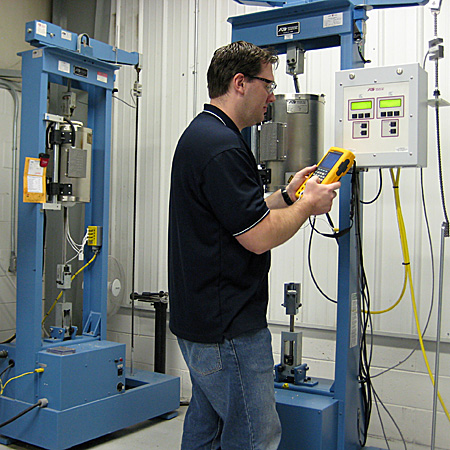 Customers receive a detailed Certificate of Calibration for each item receiving calibration services. The Certificate lists "as found" and "as left" conditions, our NIST-traceable standards, complete calibration results and any adjustments or repairs made at our calibration laboratory. Pick-up and delivery services are offered for customers within 60 miles of our Hatfield, PA metrology lab, at no additional charge.
Calibration Laboratory Capabilities
Services for masters, gages, hand tools and electrical, temperature, pressure, torque, force, mass, vacuum and flow instruments:
Service in the field for tools and gages, as well as a wide-range of instruments and equipment including surface plates, optical comparators, hardness testers, compression testing machines, balances/scales, ovens/furnaces, temperature controllers/readouts and more
Mechanical repairs and adjustments in our calibration laboratory and in the field; replace parts and new instruments also available
Additional Metrology Services
Third party and first article inspection services using CMM (coordinate measuring machine) and Smartscope technology for timely, reliable and repeatable measurement
News & Announcements
LTI now Performs Accredited Electrical and Temperature Calibration.
A2LA Accreditation for Calibration Services Renewed and Expanded