Ultrasonic Testing
Reliable Testing for Defects and Measurement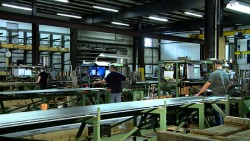 Ultrasonic testing (UT testing) or ultrasonic inspection services are used to locate internal and external product defects and measure wall thickness discontinuities in tubing, pipe and other materials without causing damage during inspection. Laboratory Testing Inc. provides both immersion and contact ultrasonic non destructive testing methods with the ability to inspect products and materials in all shapes and sizes.
LTI runs five immersion ultrasonic testing systems on two work shifts for high-speed inspection of round stock. All of our immersion ultrasonic inspection equipment is computerized for paperless chart recording and file retention. Lab Testing maintains an extensive in-house collection of tube, pipe, bar and plate UT reference standards for efficient processing of orders.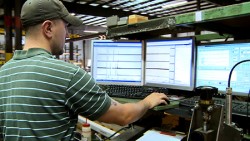 Ultrasonic testing services at LTI are PRI/Nadcap accredited. NDT Level II and Level III inspectors, an NDT MIL-STD-2132 Examiner for both immersion and contact ultrasonic testing and a P&W SIM Level 3 are on staff. Both contact and immersion ultrasonic testing are performed to MIL-STD 271, MIL-STD-2132 and ASME specifications. Our technicians are certified to ASNT SNT-TC-1A, NAS410/MIL-STD-410, MIL-STD-2132 and Pratt & Whitney PWA-NDTQ to meet your industry requirements.
The Test Process
During ultrasonic testing, an ultrasound probe connected to the test equipment transmits short pulses of high-frequency sound waves into the item being inspected while passing over its surface. A defect or inconsistency will cause some of the energy to be reflected. Sound pulses are displayed on a screen when reflected from features within the test material. The technician interprets these reflected signals to determine if the product or material is defective or acceptable according to the test specification or requirements.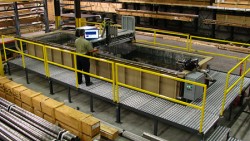 Immersion ultrasonic inspection takes place in a liquid which conducts the sound waves between the probe and test material. The process is partially automated and eliminates the need for direct contact with the test material during inspection. An ultrasonic probe emitting sound waves is manually run over the surface of the test piece during contact inspection. When it can be used, the immersion ultrasonic testing method is preferred because it can be faster and more accurate. Watch the process in the Immersion Ultrasonic Testing Video below.
LTI Capabilities
Immersion UT (high speed) – Five immersion ultrasonic inspection machines for tubing, pipe and other round stock from 1/8 in. to 6 5/8 in. diameter and 70 ft. in length.
Immersion UT (tank) – A two-axis, five-channel A, B, and C scan immersion ultrasonic testing tank system for oversized tubing, pipe and other round material up to 16 ft. long with a diameter up to 24 in. and flat material up to 16 ft. long and 4 ft. wide with a weight limit of 3000 lbs.
Contact UT – Contact UT testing equipment for all other materials that fall outside the size limitations of our immersion systems.
Specifications
ASTM E213
ASTM A388
ASTM A578
News & Articles
Reliable Testing for Defects and Measurement
UT Immersion Tank for Oversized Materials