Aerospace Testing
When Precision Can Not Be Compromised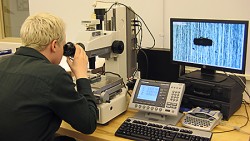 Laboratory Testing Inc. is a leading NADCAP accredited provider of Metal Testing Services, a key component of aerospace testing. These capabilities include analysis of powdered metals, ferroalloys, ores and composites. Although metal testing is our specialty, our list of polymer testing services continues to expand and additional materials can be analyzed in our Chemistry Lab.
Our team of highly experienced engineers, chemists and technicians perform a wide-range of materials and non-destructive testing services that gives clients the key information needed for:
Product R&D
Material development and selection
Assistance with manufacturing processes
Supply chain problem resolution
Verifying conformance to stringent safety standards
Researching in-service concerns
Aerospace testing clients are both manufacturers and suppliers who need to ensure the quality of raw materials, fasteners and other metal parts they purchase or produce for use in building aircraft. We know there is no room for error in the aerospace industry, so accuracy is a top priority.
---
A Partner with Solutions
Lab Testing understands the importance of dependable, timely answers and convenience. You get these and more by partnering with LTI as your single-source for aerospace testing. This independent lab has one-stop service to support our customers — from the expertise required to characterize materials and analyze failures to the ability to handle high volume, repeat testing.
Aerospace Approvals
We have been approved for materials testing, nondestructive testing and/or calibration services by the leading aerospace companies, including:
| | | |
| --- | --- | --- |
| Aerojet Rocketdyne | Eaton Corporation | Northrop Grumman |
| Agusta Aerospace Corp. | GE Aviation | Pratt & Whitney |
| Airbus | Gulfstream Aerospace | Rolls Royce |
| Bell Helicopter Textron | Hamilton Sundstrand | Sikorsky |
| Boeing Company | Lockheed Martin | Sterling Helicopter |
| | | |
Contact us for more information about specific customer approvals.
NADCAP and A2LA Accredited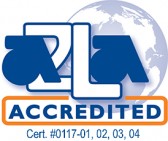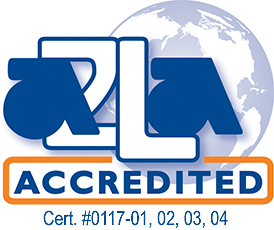 Laboratory Testing Inc. provides a full-range of aerospace testing at our one-stop facility, including many NADCAP accredited materials testing and nondestructive testing services. Materials testing is also A2LA accredited, as are metrology services. LTI's quality program meets the ISO/IEC Guide 17025 standards.
---
Aerospace Testing Services
The testing services offered by LTI provide a range of information about the following and more.
Material Characterization
Material Composition and Impurities
Heat Treat Upgrade
Mechanical Properties
Flaws and Inconsistencies
Failure Analysis
Clients receive a Certified Material Test Report that includes all pertinent details relating to the services performed.
Spectroscopy (ICP-AES, ICP-MS, AES)
SEM/EDS
Positive Material Identification (PMI)
Fourier Transform Infrared Spectroscopy (FTIR)
Wet Chemistry
Salt Spray / Salt Fog
Humidity Testing
Passivation Testing
Temperature Testing
ASTM A262 Practice A, B, C, D, E
ASTM G28 Methods A & B
ASTM G48 Methods A & B
ASTM A923 Method C
Tensile Testing
Elevated Temperature Tensile
Charpy Impact Testing
Fastener Fatigue
Hardness Testing
Bend Testing
Stress Rupture
Creep Test
Hydrogen Embrittlement
Weld Testing
Fastener Testing
Fracture Toughness Testing
Fatigue Crack Growth Testing
Microstructure
Carburization / Decarburization
Grain Size (ASTM E-112)
Inclusion Rating (ASTM E-45)
Plating Thickness
Carbide Precipitation
Ferrite by Point Count (ASTM E-562)
Intergranular Attack / Oxidation
Alpha Case
Intergranular Corrosion (ASTM A-262)
Sensitization
Surface Contamination
Nodularity / Nodule Count
Eutectic Melting
Macro-etch (ASTM E-340)
Grain Flow
Surface Condition
Surface Finish
Case Depth
Microhardness (Knoop & Vickers)
Carburization / Decarburization
Weld Qualification
Ultrasonic Testing
Magnetic Particle Inspection
Liquid Penetrant Inspection
X-ray Inspection
Many customers also rely on LTI to machine specimens for aerospace testing or to calibrate and certify measuring tools, gages, torque wrenches, CMMs, ovens, surface plates and other measuring instruments used in manufacturing or assembly.
Request a Quote or Contact Us for quick information and answers to your questions.