Accreditations
NADCAP and A2LA Accredited
Laboratory Testing Inc. holds important accreditations to meet the requirements of our customers including:
NADCAP accredited by the Performance Review Institute (PRI) in materials and nondestructive testing with 24-month Merit Status.
A2LA accredited in accordance with ISO/IEC 17025 in calibration, dimensional inspection and materials testing services, including mechanical testing, metallurgical testing and chemical testing.
Quality program in compliance with ISO 9001 and ISO 13485 for the medical industry.
European PED approved.
Accreditation Certificates
A2LA Accreditation  (American Association for Laboratory Accreditation)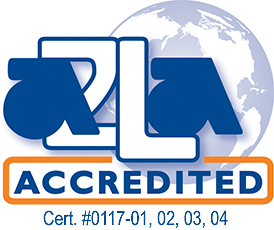 NADCAP Accreditation  (Performance Review Institute Aerospace Program)
Nadcap provides expiration dates and current scopes at www.eAuditNet.com. Click Here for instructions to access the information.
About Our Accreditations
A2LA Accredited
A2LA is an independent, internationally-recognized accreditation body located in the USA. Laboratory Testing Inc. received its first A2LA accreditation certificate in 1989 for dimensional testing; a certificate for calibration was added in 2001. The lab has continued to expand the scope of A2LA accredited calibration and testing services throughout the years, and in 2012 added services under the umbrellas of mechanical testing, metallographic evaluation and chemical testing to the lab's scope of accreditation.
NADCAP Accredited
Nadcap is the Performance Review Institute's aerospace industry accreditation program, created to help ensure that the products and services provided by aerospace manufacturers and suppliers meet specified safety, quality and reliability requirements. Since 1992, Laboratory Testing Inc. has been Nadcap accredited in the following nondestructive testing methods: liquid penetrant testing, magnetic particle inspection and ultrasonic testing. LTI has retained 24-month merit status based on the latest assessment conducted in 2015. LTI was first Nadcap accredited for materials testing in 1994 and today has a scope that covers an extensive list of chemistry, metallography and mechanical testing methods.
ISO 17025 Certified
LTI is ISO 17025 certified through our A2LA accreditation. The A2LA certificates state that LTI is accredited in accordance with the recognized International Standard ISO/IEC 17025:2005 (General Requirements for the Competence of Testing and Calibration Laboratories).
Pressure Equipment Directive (PED) Approved
Our Lab is also PED approved based on our ISO 17025 certification and EC Certificates of Approval of NDT personnel issued by Lloyd's Register.