Comprehensive Analytical Testing, NDT & Metrology
Testing Let's You Know It's Right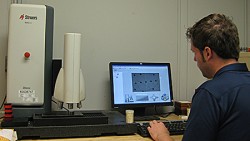 Get the Analytical Testing, Nondestructive Testing and Metrology services your business needs for information, answers and certified reporting from Laboratory Testing Inc. Whether you're designing a product, selecting materials, verifying a production process or researching a problem, LTI has solutions for you at our full-service facility near Philadelphia, PA in the United States.
Why Choose LTI?
The entire staff works to meet your expectations for accuracy, service and turnaround with every order.
ASTM Testing and More:  LTI has a history as a leader among ASTM testing labs for over 30-years. Testing and inspections are also performed to many other industry specifications.
Metal Testing Expertise:  Metal and alloy testing is our specialty, so we offer a full array of destructive and nondestructive laboratory testing services for these materials.
Added Services for Convenience:  Some testing services are also available for plastics and ceramics. LTI also provides specimen machining and failure analysis, as well as dimensional inspection and calibration services performed by our Metrology Lab.
Turnaround to Meet Your Needs:  LTI is equipped with the latest computerized equipment for efficiency and reliability. Our standard turnaround times are very competitive, but ask about Same Day, Next Day and 2nd Day rush services for your most challenging situations.
More Qualifications and Support
Our chemists, engineers and other technical experts offer help with complex testing needs.
Audited and approved by hundreds of customers, prime manufacturers and industry organizations
Our quality system is second to none. All services are performed with precision, using proven procedures and methods.
LTI is a fully accredited test lab:
European PED approval 
Test and inspection results are documented in detailed, easy-to-read Certified Test Reports and Calibration Certificates to meet our customers' quality assurance needs.
Although our materials testing and inspection specialty is metals and alloys, we also offer some analytical testing services for powdered metals, ores, ferroalloys, composites, polymers and ceramics. They'll answer questions about mechanical properties, material composition, flaws and inconsistencies, corrosion resistance and more.
Our NDT Testing equipment has the capacity to handle tubing, pipe, barstock, castings and other products of almost any size and shape. Certified NDT inspectors perform testing that provides customers with information about surface and subsurface inconsistencies, flaws and weaknesses without damaging their test material.
When metal components fail to perform as expected, our materials engineers can help you understand the reason why. Testing and analysis will help them get to the root of the problem. You'll receive a comprehensive failure analysis report listing all findings from our failure investigation and our recommendations for preventing a recurrence. » Learn More
For convenience, let our machinists prepare high quality, economical specimens for your testing from metals and many plastics. We strictly adhere to specified industry standards and customer specifications for all specimen machining. » Learn More
Third-party and first-article inspections are performed on machined products, parts and fasteners to verify measurements using CMM and conventional methods, including: » Learn More
Surface Dimensions
Internal and External Threads
Special Product Features
Our calibration laboratory calibrates all types of masters, gages and measuring tools to verify that the items meet their performance specifications. Many additional instruments are calibrated on-site including surface plates, microscopes, balances, ovens, temperature controllers, optical comparators and more. Repairs, replacement parts and new instruments are also provided. All calibration services are NIST-traceable and performed with reliable accuracy and timely turnaround.
Visit our individual services pages for more information or contact us with your questions.