LTI Exhibiting at Farnborough Airshow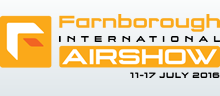 Laboratory Testing Inc. participates in many leading industry trade shows and events each year. In support of prime aerospace manufacturers and their suppliers, the Lab will be a first-time exhibitor at the Farnborough International Airshow (FIA16) held July 11 – 17, 2016 at the Farnborough Aerodrome in north east Hampshire, England. LTI will be showcasing its full line of destructive and non-destructive metal testing services, as well as failure analysis and specimen machining, in Hall 3 Booth E130.
"Although the emphasis will be on metal testing, our Lab also offers some testing services for polymers, powdered metals, ferroalloys, ores, composites and ceramics", said Mike Hiller, Director of New Business Development. "Customers will be able to discuss any of their requirements with our team at the Airshow."
Qualified Partner of the Aerospace Industry
LTI provides testing and certified reports for customers in the aerospace industry to support product R&D, material selection and manufacturing processes, as well as to meet safety standards and to help clients minimize costs, wasted materials and errors. The Lab has the qualifications required by the industry, including:
Nadcap accreditation for materials testing, nondestructive testing and aerospace quality systems
A2LA accreditation in materials testing
ISO/IEC 17025 certification
European PED approval
Approval from primes and other manufacturers in the aerospace industry including Aerojet Rocketdyne, Boeing, Eaton Corporation, GE Aviation, Gulfstream Aerospace, Lockheed Martin and Pratt & Whitney to name a few.
"Many of our customers will be exhibiting at the Airshow or attending the event", said Hiller. "We are excited to attend for our first time and to have this opportunity to connect with so many customers at one place."
Laboratory Testing provides an extensive list of aerospace testing services, including a wide-array of Chemical Analysis, Corrosion Testing, Mechanical Testing, Fracture Mechanics, Metallurgical Analysis, and Nondestructive Testing. A2LA accredited Dimensional Inspection and Calibration services are also offered by the company's metrology division.
Stop by to see LTI at the Airshow or get in touch at your convenience to find out how we can partner with you to meet your testing requirements.
About the Airshow
The Farnborough Airshow takes place every two years and is the largest trade event for the global aerospace community. A diverse range of 1,500 exhibitors from core sectors of the aerospace industry are scheduled to participate in the event, including space, civil, defense, manufacturing, technology and more. Over 100,000 trade visitors from over 40 countries are expected at this year's event. In addition to the exhibition, there will be aircraft displays, product briefings, seminars, workshops, networking events and educational conference sessions.