Nondestructive Testing
Testing Quality Without Harming Samples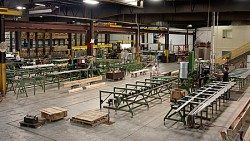 Nondestructive Testing, also called NDT Testing, can detect surface and sub-surface defects without harming your materials and components or affecting their operating performance. Nondestructive testing methods are also used to inspect the quality of welds for Welder and Procedure Qualification and to detect corrosion.
All About Quality
Laboratory Testing Inc. is a fully equipped and accredited independent laboratory providing answers to your material questions and quality needs.
PRI Nadcap accreditation
Strict quality system and procedures to ensure reliable results
Inspectors certified to ASNT SNT-TC-1A, NAS410, MIL-STD-2132 and Pratt & Whitney PWA-NDTQ to meet industry requirements
Test results evaluated by certified NDT Level 2 & 3 technicians
Nondestructive Testing for Metals & More
Lab Testing offer a wide range of capabilities for customers ordering non-destructive testing services:
Test methods are available for inspecting metal tubing, pipes, bars, plates, castings, fasteners and other metal products, as well as some ceramic items.
The layout of our nondestructive testing lab and capacities of our equipment allow LTI to inspect materials and parts in all shapes and sizes, as well as orders of almost any quantity.
Our high-capacity forklifts and cranes safely handle materials weighing up to three tons.
Array of Nondestructive Testing Services
Both immersion and contact ultrasonic testing (UT) services are performed in Lab Testing's non-destructive testing lab to locate discontinuities in products and inconsistencies in tubing and pipe wall thickness. With our extensive in-house collection of reference standards for tubing, pipe, bar and plate, we are able to turn orders around quickly.
Hydrostatic pressure testing is used to verify the performance capability of fluid-filled tubing, pipe and coils, and can identify leaks. LTI can test tubing and pipe to pressures up to 10,000 PSI.
Surface and near surface discontinuities can be identified in products that can be magnetized using magnetic particle inspection services. Wet fluorescent magnetic particle testing is performed on products up to 12 ft. long using equipment with a maximum output of 6,300 amps. Dry powder inspection services are also provided.
Liquid penetrant testing services are reliable for detecting surface-breaking flaws in materials with a non-porous surface. Technicians at Laboratory Testing Inc. perform dye penetrant testing using both fluorescent and visible dye on products up to 25 ft. long.
X-ray inspection is used to locate internal discontinuities, verify the integrity of internal components and determine the quality of welds. At LTI, our X-ray inspection equipment can penetrate thick metal and plastic products and parts, and our 20 ft. by 20 ft. vault can handle items very large in size.
Visual Inspection
Inspectors are SNT-TC-1A certified.
Value-added Services
Laboratory Testing Inc. processes each order with our customer's needs for turnaround and convenience in mind. We offer many additional services, from material preparation to special packaging and delivery, to complete your non destructive testing order:
Receipt inspection
Cutting, trimming and deburring
Material identification
Line marking
Stenciling
Electrochemical etching
Packaging and shipping in accordance with ANSI N45.2.2 or customer specifications